[Specification]

Small compression handle with master key system
Zinc alloy cast with bright chrome plated stardand.
Weatherproof machinenism.

Keying options include CH5 series.
Push button operation, flush fitting.
ubber gasket is upon customer's request.

[Accessories]


2 brass keys.
1 hex nut
1 screw

[Special Use]




Ideal for various cablinet doors, trucks,/automotive, construction equipment, electronic enclosures,HVAC and so on.

[Options]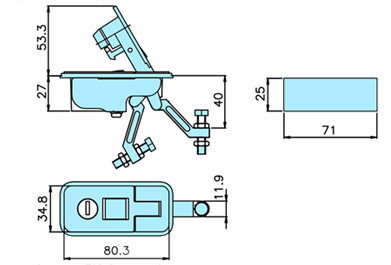 [Specification]

Easy installed compression latch
master key system avaiable.
Zinc alloy cast with bright chrome plated stardand.
Weatherproof machinenism.

Keying options include CH5 series.
Push button operation, flush fitting.
Rubber gasket is upon customer's request.

[Accessories]


2 brass keys.
1 hex nut
1 screw

[Special Use]




Ideal for various cablinet doors, trucks,/automotive, construction equipment, electronic enclosures,HVAC and so on.

[Options]

[Specification]

Compression latch with single point locked structure.
Zinc alloy die cast, zinc plated steel bearing panel and adjusting bolt.
Matte black painted standard.
Used for all direction that is high or low, right or left.
The height from stopper to door panel can be adjusted




[Special Use]




Use on electronic enclosures, furniture, networking/telecom, vending machines, wall-mounting box, panel box/outdoor cabinet,tru etc.

[Options]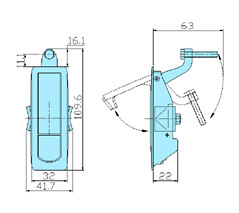 [Specification]

Compression latch with single point locked structure.
Zinc alloy die cast, zinc plated steel bearing panel and adjusting bolt.
Matte black painted standard.
Used for all direction that is high or low, right or left.
The height from stopper to door panel can be adjusted




[Special Use]




Use on electronic enclosures, furniture, networking/telecom, vending machines, wall-mounting box, panel box/outdoor cabinet,tru etc.

[Options]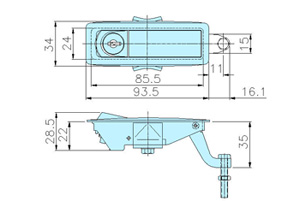 [Specification]

Compression cabinet latch with single-point lock structure
Zinc alloy die cast for lock body, red plastic push button.
Black painted standard.
The left-hand or right-hand use can be changed by reversing the stopper plate.
80009 with lock and non-locking version 80010.

[Accessories]




[Special Use]




Use for flie cabinets or cases, steel cabinet

[Options]

Other finish.
Cam lever style.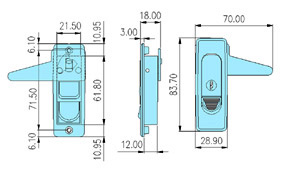 Copyright 2007© MingYi Light Ind.co.,LTD. All Rights Reserved.